Loose Minerals for Horses
Is your horse ignoring his lick and showing signs of dehydration or mineral and salt deficiency? Redmond Rock Crushed loose sea salt is packed with trace minerals and electrolytes to encourage your horse to drink and naturally bring him into mineral balance.

VERSATILE FEEDING & SERVING SIZE
Easily add Rock Crushed to feed or adjust the serving based on your horse's mineral and salt needs.
MINERAL LICK ALTERNATIVE
Horses love our loose mineral salt! It won't burn or irritate horses' tongues in any way like some licks.
MADE BY NATURE
Rock Crushed is 100% natural; nothing is added or removed from our pure sea salt.
GREAT FOR TRAVELING
Redmond Rock Crushed 5 lb bag is ideal for ensuring your horse receives necessary minerals and electrolytes on the road.
PACKED WITH MINERALS
Redmond Rock Crushed contains 60 + trace minerals to nourish and naturally balance your horse.
EXCELLENT HYDRATION AID
Contains essential electrolytes that encourage your horse to drink more.
Feeding instructions
Simply top dress it on your horse's feed, or feed separately, free choice.
Redmond Rock Crushed
Weight
Maintenance
<400
½ oz | 1 Tbsp
400-900
1 oz | 2 Tbsp
900-1400
2 oz | 4 Tbsp
>1400
3 oz | 6 Tbsp
1 oz scoop included in pouches and 25lb buckets - no scoop in 25lb bags

REDMOND ROCK CRUSHED IS AN EFFECTIVE ALTERNATIVE TO A MINERAL LICK
Some horses, even dehydrated horses, ignore their salt lick, while others require more electrolytes and minerals than a lick can provide. Redmond Rock Crushed is an excellent hydration trigger that delivers all the essential trace minerals and electrolytes a horse needs to stay healthy. Crushed gives you the control to vary the amount of salt and minerals your horse needs.
Why Shelby Switched Her Horse Block to Loose Minerals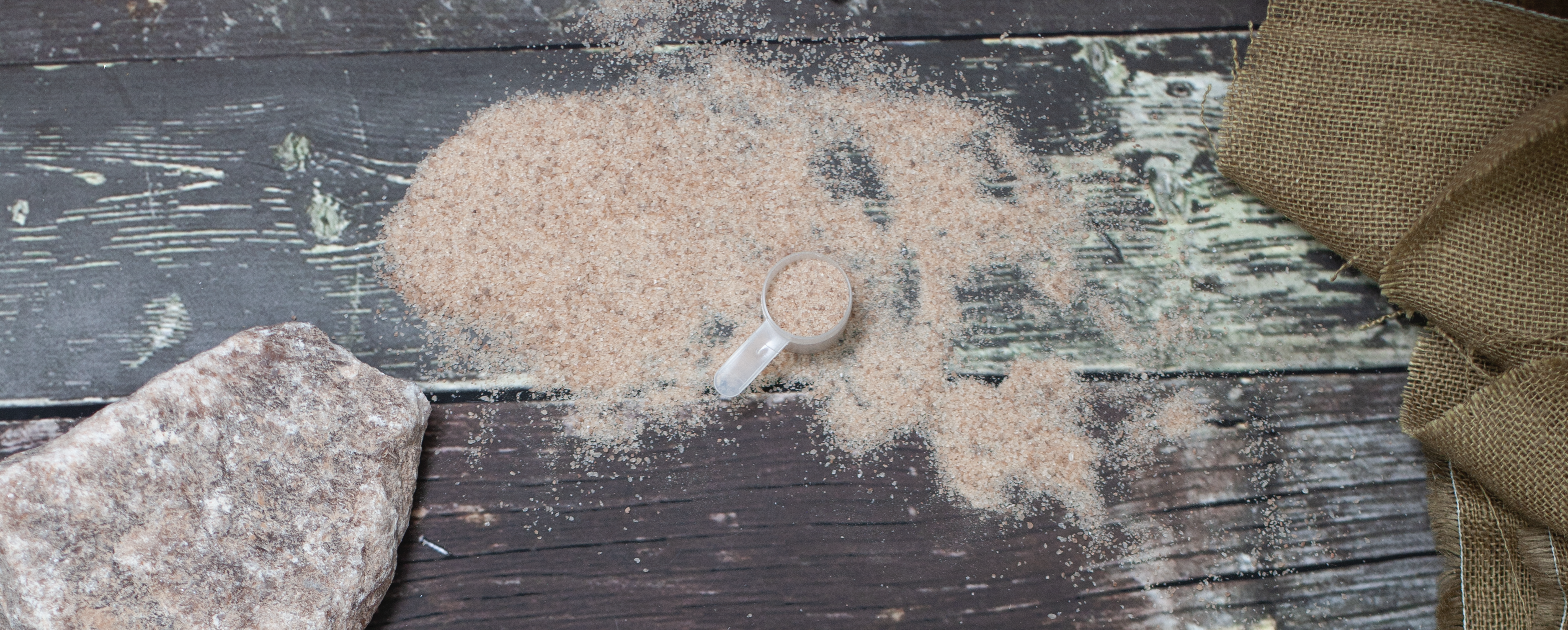 REDMOND ROCK INGREDIENTS:
Unrefined Mineral Salt
| Mineral | Max | Min |
| --- | --- | --- |
| Calcium | .85% | .35% |
| Phosphorous | | .002% |
| Salt | 96% | 91% |
| Magnesium | | .06% |
| Potassium | | .03% |
| Sulphur | | .12% |
CRAFTED BY FARMERS . NATURE HAS IT RIGHT