Health and Performance Benefits for All Livestock Species
Redmond Conditioner contains all natural bentonite clay from our volcanic deposit in central Utah, plus our full spectrum of sea minerals. Bentonite has unique physical and chemical properties that have proven benefits for all species of livestock. Animal health starts in the gut...from pH balance, to digestion regulation, feed efficiency, and toxin binding, Redmond Conditioner can help your animals and production thrive.
Conditioner Livestock Benefits
Improves Soil Nutrient Storage
Bentonite clay particles are thin, flat, and have a lot of negatively charged surface area. These particles hold and store positively charged nutrients (cations) plants need, but can't produce for themselves. Plant roots then exchange hydrogen cations with these bentonite particles for essential nutrients. This Cation Exchange Capacity (CEC) is a very useful measurement for soil fertility.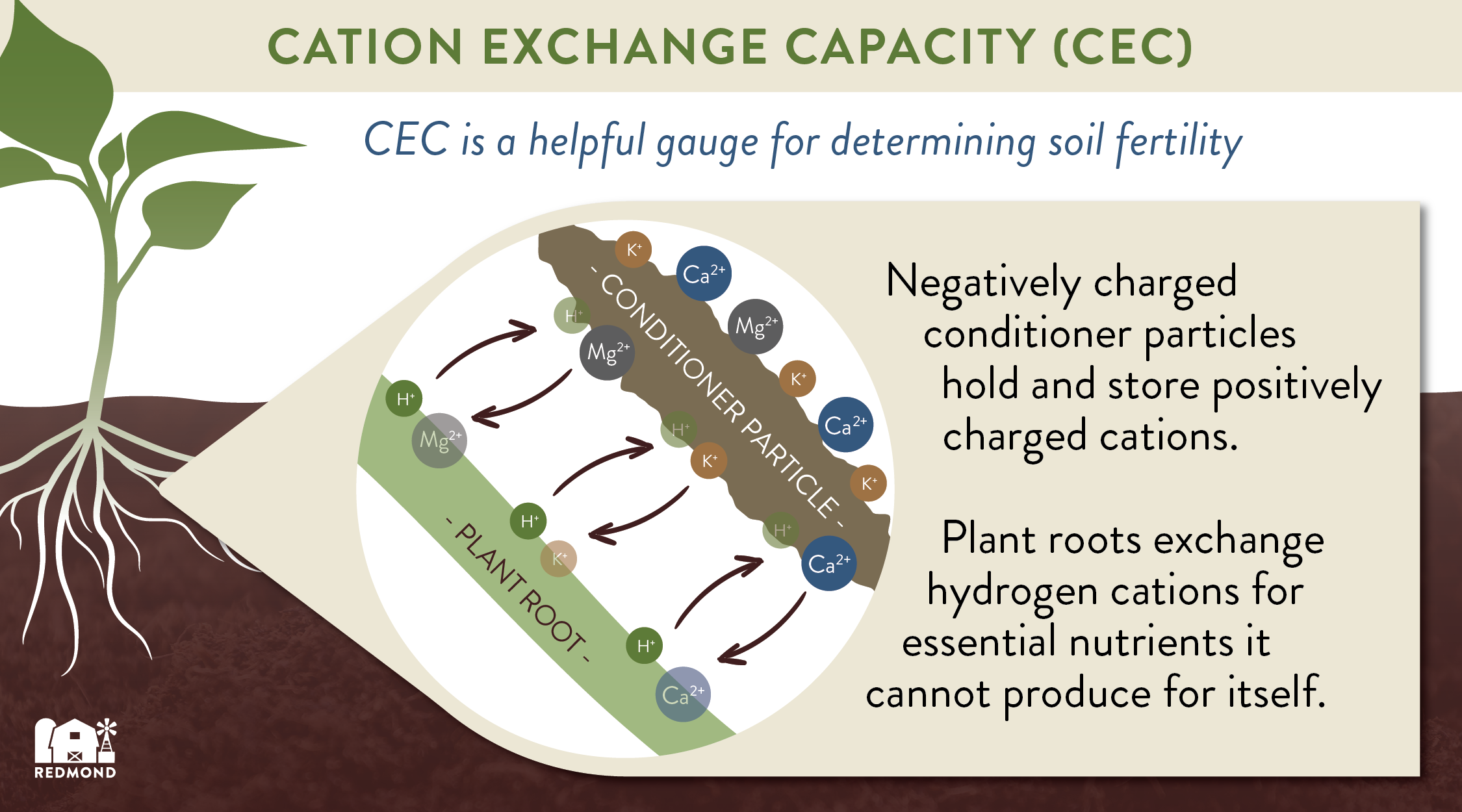 Learn more about CEC
More Complete Rumen Buffer than Bicarb
Redmond Conditioner is an effective acid buffer that offers more benefits than just sodium bicarbonate alone. Independent studies have found that our Conditioner not only balances gut pH as efficiently as bicarb, but also controls ammonia levels, binds to toxins, and improves fiber digestion.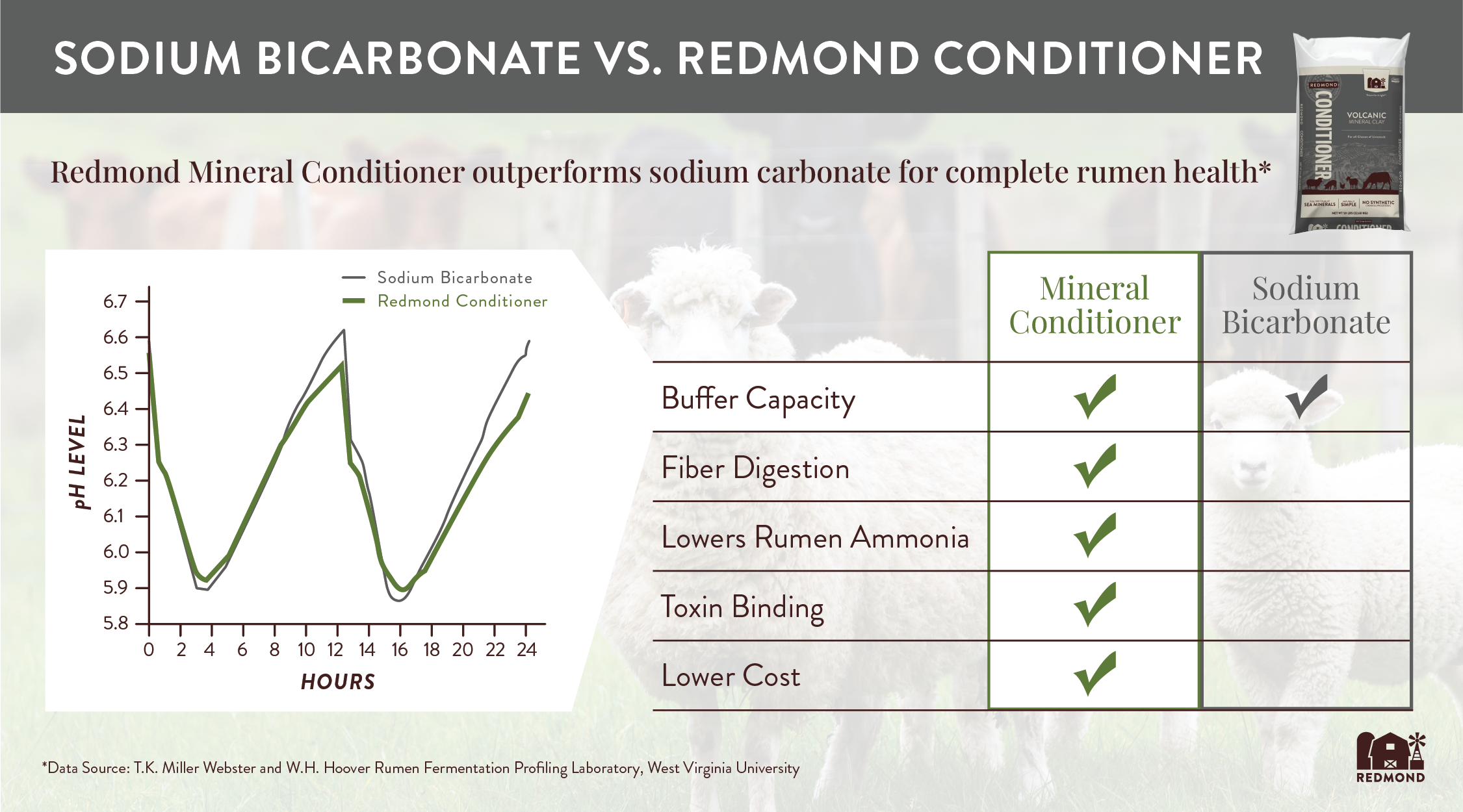 Conditioner vs. bicarb results
Feed Toxin Binding
Feed toxins rob your farm of productivity and health. Whether you are looking to reduce feed toxins at the plant source, or bind to them internally, Redmond Conditioner has a solution for you. 4 separate corn silage farms used a mix of Redmond conditioner and minerals on their soil and greatly reduced how many toxins were entering the plant. For internal toxin control, the National Institute of Health has found that bentonite clay is an affordable and effective way to "selectively remove pathogens without reducing microbial richness and diversity in the gut."
How do I use Conditioner?
Animal supplement:

Follow species instructions to mix in with feed rations and/or Redmond mineral salts to increase feed efficiency, correct acidosis, improve gut performance, and overall health.

Soil supplement: Follow application rates and apply to soil to boost nutrient and water utilization, improve soil structure, and

increase soil CEC

.

We recommend mixing 2-3 parts Redmond Mineral Salts with 1 part Conditioner to regulate intake.

What is Conditioner made of?
Redmond Mineral Conditioner is made from weathered volcanic ash that is naturally imbibed with a full spectrum of sea minerals from our ancient sea deposit. Geologically it is also referred to as bentonite, smectite, or montmorillonite clay.
Can I Give Conditioner to My Horses?
In the right doses, bentonite clay can be a very beneficial equine supplement. However, due to their more sensitive digestive systems, we recommend you use specially formulated Redmond Daily Gold for your horses, and use Conditioner for your other livestock species.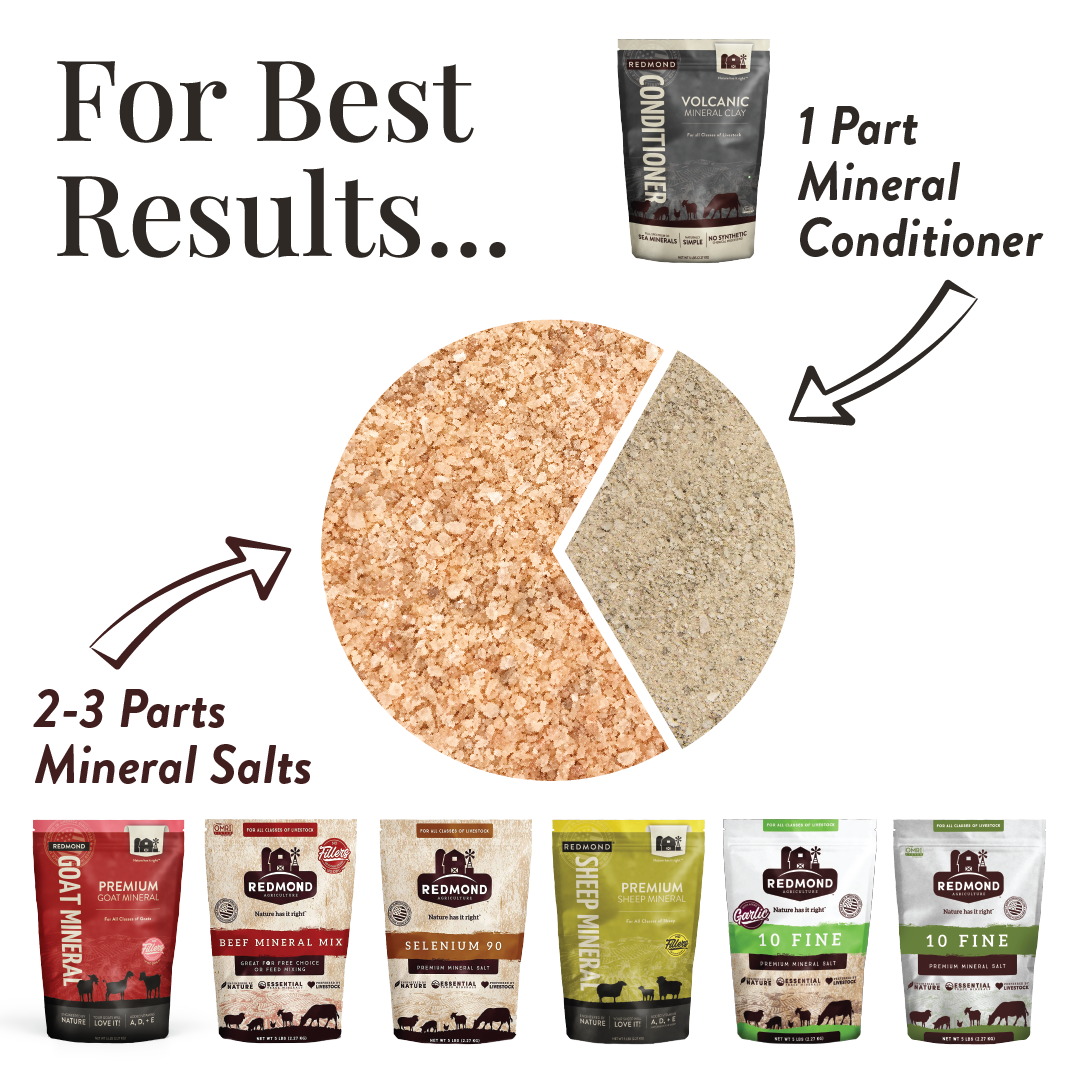 KEY INGREDIENTS
Redmond Conditioner contains weathered volcanic ash (known as sodium bentonite) and a spectrum of over 60 naturally occurring sea minerals from the Redmond deposit in central Utah.
Mineral Analysis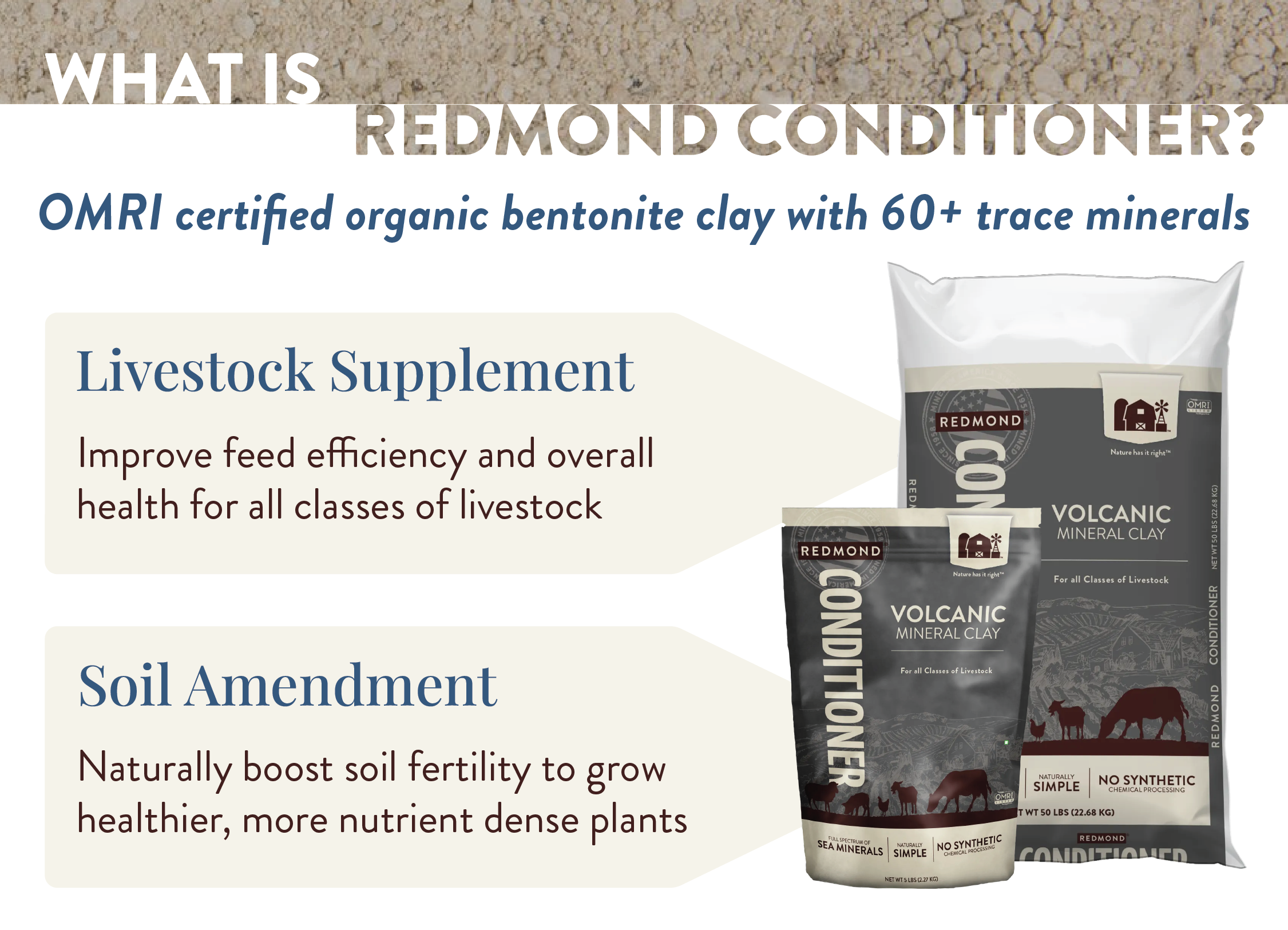 CRAFTED BY FARMERS . NATURE HAS IT RIGHT