Natural Horse Calmer
Does your performance horse get stressed before events? Naturally treat anxiety in horses with the Stress Relief Syringe. Our bentonite clay paste buffers acid, soothes digestive upset, and relieves acute pain from equine ulcers. Use Daily Gold to help your horse feel relaxed, focused, and ready to perform its best in every situation.
Comes as a single, 3 pack, or 10 pack.
DELIVER KEY MINERALS
This completely natural montmorillonite clay contains 60+ minerals and 3% sodium chloride—the building blocks of life.
SIMPLE SOLUTION
Our paste for horses is 100% natural and simple. Just water, hydrated bentonite clay, and organic peppermint oil. That's it.
PROVIDE STRESS RELIEF
Helps horses feel calm, relaxed, and ready to focus.
QUICK RELIEF FOR STOMACH UPSET
Buffers stomach acid, repairs equine ulcers, and soothes gastric upset.
AID IN DIGESTIVE HEALTH
Quickly eliminates diarrhea and colic.
TASTES GREAT
Horses love the peppermint taste!
Add-On
Daily Gold Syringe is an add-on in our Foundational Horse Care Program and must-have for horses traveling or competing. Complete your program with other Redmond favorites for best results.
Step 1 - Scoop Daily Gold
Step 2 - Scoop Crushed Rock
Step 3 - Free-Choice Rock
Foundational Horse Care Program
Learn more about how Daily Gold Syringe helps stressed horses feel calmer and more focused.
help stressed horses feel calm
Feeding instructions
Fast-acting Daily Gold Stress Relief syringe is perfect for traveling or dosing quickly. Just feed the syringe orally 30-60 minutes before any situation that creates stress for your horse. For small horses, use half a syringe. For full-grown horses, use a full syringe. It's simple to use!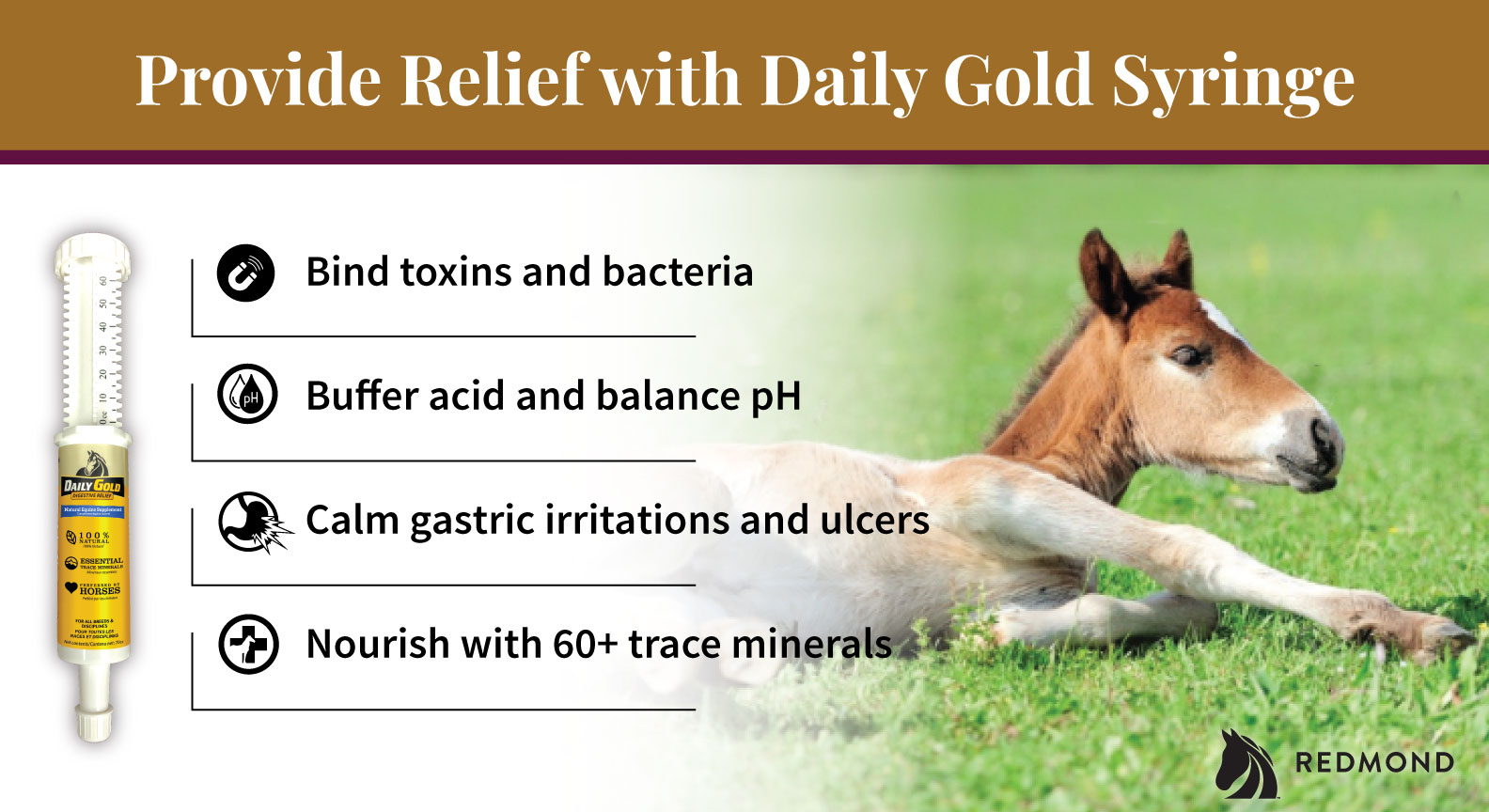 LOOKING FOR A SOLUTION THAT WILL NOT TEST?
Our horse syringe will not test. Why? Because we believe in keeping it natural—with absolutely no chemicals or calming drugs to either artificially enhance or take away the competitive edge from your horse's performance. Stressed horses will find natural relief and focus with our pre-race paste. Read "How to Treat Anxiety in Horses" to get trainer tips on treating anxiety in horses and how Daily Gold can help.
how to treat anxiety in horses
DAILY GOLD IS AN EXCELLENT SOLUTION FOR DIARRHEA & SCOURS
Did you know our Stress Relief Syringe resolves diarrhea? Scours or diarrhea in foals and adult horses can be dangerous. The Daily Gold syringe is a fast-acting, natural solution. Our bentonite clay normalizes digestion by attracting and binding toxins, balancing pH, and settling the stomach. Plus, the 63 trace minerals rapidly replenish depleted electrolytes and minerals lost through diarrhea.
Treat and Prevent Diarrhea in Foals
KEY INGREDIENTS:
Water, Hydrated Sodium Calcium Aluminosilicate, Peppermint Oil
| Mineral | Max | Min |
| --- | --- | --- |
| Calcium | 4.0% | 3.0% |
| Phosphorous | | 0.00% |
| Salt | 3.50% | 2.50% |
| Magnesium | | .80% |
| Potassium | | .70% |
| Sulphur | | .08% |
| Copper | | 29ppm |
| Manganese | | 400ppm |
CRAFTED BY FARMERS . NATURE HAS IT RIGHT
DAILY GOLD STRESS RELIEF SYRINGE FREQUENTLY ASKED QUESTIONS