Support Immunity, Replenish Electrolytes in Calves
Redmond First Month is a highly effective immune stimulator that can cut death losses, treat scours, reduce medical costs, and restore the health of your herd's next generation.
REDUCES CALF MORTALITY RATES
A study conducted by UC Davis School of Veterinary Medicine found that Redmond's smectite clay (used in First Month) reduced calf mortality rates by 63% (see graphic below). Redmond customers already love the results they are seeing:
"I had been losing almost every calf within 3 days of life. My Redmond rep got me a small pouch of First Month. I started feeding it in the colostrum. My next 2 heifer calves are doing great. I will not raise calves without this product." -Leader Win Farm, Lancaster, PA
NATURALLY TREATS SCOURS
As a calf scours treatment, First Month naturally corrects the acidosis, dehydration, and loss of energy and nutrients caused by scours:
Alkaline content to buffer acidosis and balance pH levels;
Replenishes lost electrolytes/salts;
Smectite clays slow the digestive passage rate to allow for better nutrient and fluid absorption into the blood
Replaces microbe strains that are stripped and killed off by scours
BOOSTS IMMUNE HEALTH
First Month helps protect calves when their immune system is at its most vulnerable. Our ingredients guard immune health in multiple ways:
Redmond's clay conditioner has natural anti-microbial properties and inhibits pathogen growth without damaging beneficial bacteria;
Mannan-Oligosaccharides (MOS) prevent harmful pathogens from attaching and colonizing in the intestines;
A study by UC Davis School of Veterinary Medicine found that Redmond's smectite clay (used in First Month) increases immunoglobulin and mineral levels in the blood (see below)
RESTORES NORMAL GUT FUNCTION
Redmond First Month helps calves continue to grow and achieve weights by restoring healthy gut function:
Protects gut lining
Slows digestive passage rate so fluids and nutrients absorb more readily
Binds to harmful toxins so they can be excreted instead of absorbed
Replaces and feeds beneficial digestive microbe colonies
Milk/Colostrum Replacer instructions:
Add 1 quart of water
Add preferred dry milk replacer and mix lightly
Mix in 1 tsp (about 4 grams) First Month powder
Add remaining quart of water and mix thoroughly
Feed to calf
Milk Instructions:
Measure 2 quarts of milk
Add 1 tsp (about 4 grams) First Month powder
Mix thoroughly
Feed to calf
Administer 1 tsp at each feeding (around twice daily). Can also be used with tank milk.
HOW DO I USE IT?
First Month powder mixes right into the milk you'll be feeding the calf. Mix 4 grams (1 tsp) into 2 quarts of milk, colostrum, or replacer per calf and stir thoroughly. Feed twice daily.
Can also be used with electrolyte treatments for quicker recovery from scours.
WHAT DOES FIRST MONTH DO FOR A CALF?
Redmond First Month increases blood mineral levels, boosts immunity, naturally treats scours, reduces calf mortality rates, and restores healthy gut function.
WHAT IS REDMOND FIRST MONTH, & HOW DOES IT WORK?
First Month is an immune stimulator containing:
• Redmond Mineral Conditioner: which increases feed utilization, binds to toxins, buffers gut pH, and provides an expansive spectrum of minerals.
• Mannan-oligosaccharides (MOS): binds to pathogens and prevents them from colonizing in the gut lining, feeds beneficial bacteria colonies needed for digestion.
• Probiotics: restores the digestive bacteria needed for healthy gut efficiency, restricts growth of pathogenic bacteria like salmonella, E-coli, and Clostridia.
HOW LONG SHOULD I USE FIRST MONTH?
You should use First Month for at least 1 month; 2 months is beneficial. This gets your calves past their most vulnerable health period and on their way to healthy growth into adulthood. For every 1lb of dry matter intake in the first 2 months of life, there are 18 more pounds of milk intake during the first lactation phase.
HOW MUCH DOES IT COST?
Depending on ease of access and shipping costs, Redmond First Month will usually cost around $8-9 per calf in the first month of use.
REDMOND MINERAL CONDITIONER
Weathered volcanic clay with 4 essential electrolytes and 60+ minerals found at the Redmond mineral deposit.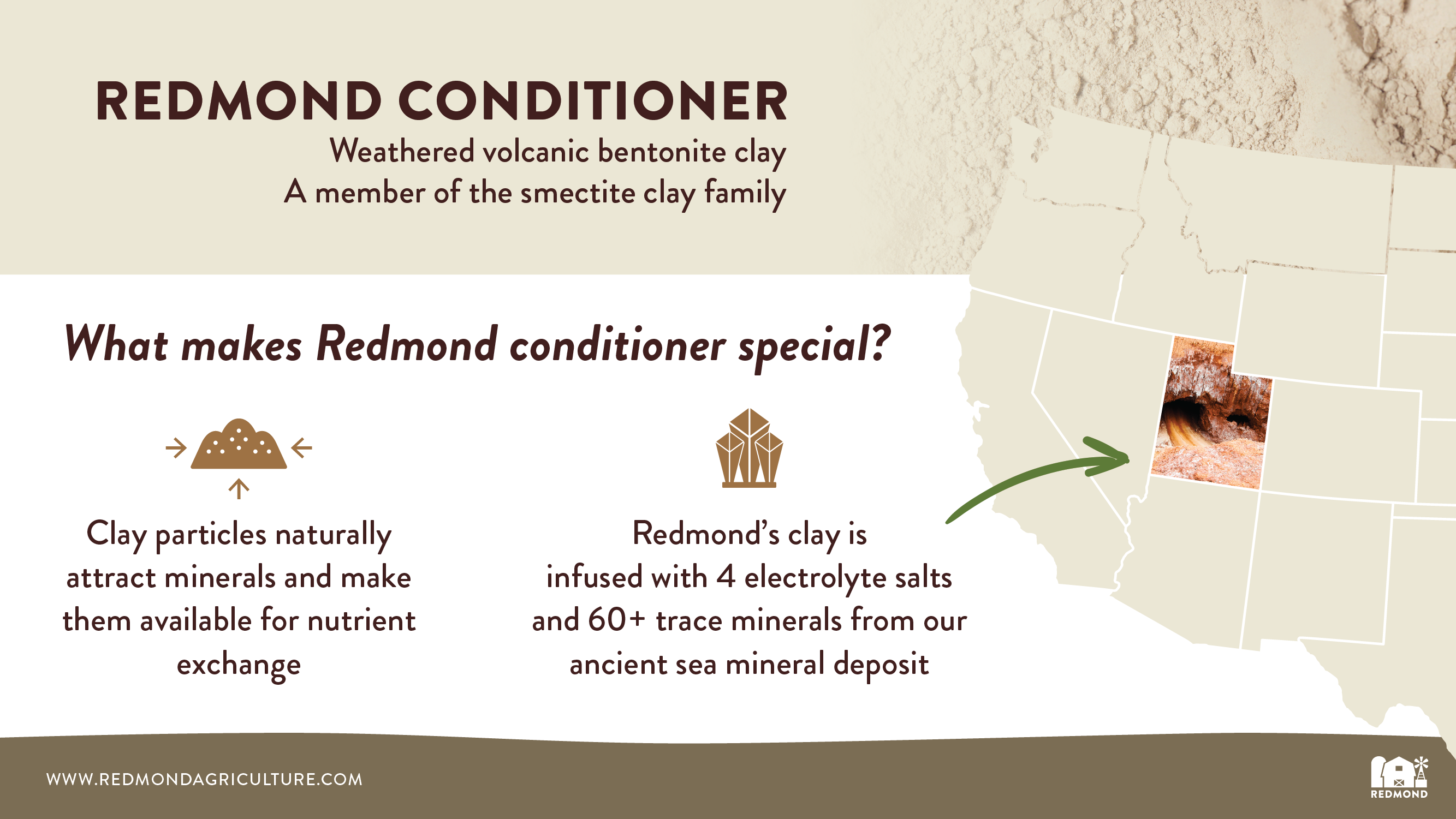 PROBIOTICS
Carefully selected bacillus subtilis strains, for balanced gut microbe health
MANNAN-OLIGOSACCHARIDES (MOS)
Yeast cell wall derivatives that prevent pathogen growth and feed beneficial bacteria colonies so they can repopulate
CRAFTED BY FARMERS . NATURE HAS IT RIGHT