Natural Wound Care for Horses
Is your horse suffering from painful bites, sores, cuts, or burns? Redmond First Aid clay heals superficial horse injuries by sealing wounds, drawing out infection, repelling flies, and preventing proud flesh. Make First Aid your first choice for natural healing.

PREVENTS PROUD FLESH
Promotes a clean, rapid repair and prevents proud flesh from forming.
DRAWS INFECTION
Our hydrated bentonite clay soothes on contact and pulls heat and bacteria from infected wounds.
SEALS WOUNDS
Acts as an antiseptic and creates a protective barrier against bacteria and flies.
MINED IN THE USA
100% of our mineral salt rock is mined, sorted, and packaged right here in America.
Add-On
First Aid wound healing cream is an add-on in our Foundational Horse Care Program and a must-have in your barn and saddlebag. Complete your program with other Redmond favorites for best results.
Step 1 - Scoop Daily Gold
Step 2 - Scoop Crushed Rock
Step 3 - Free-Choice Rock
Foundational Horse Care Program
Learn how First Aid also offers quick relief for humans! Use it to soothe insect bites, rashes from stinging plants, or burns on your own skin.
More on the best wound care for you + your horse
APPLICATION INSTRUCTIONS:
First Aid for Horses is easy to apply! Just mound a thick layer over your horse's wound and continue applying once or twice daily. A wrap can also be used to keep the clay moist and protect the wound. The clay will seal the affected area, draw out infection, repel flies and bacteria, and leave a clean repair.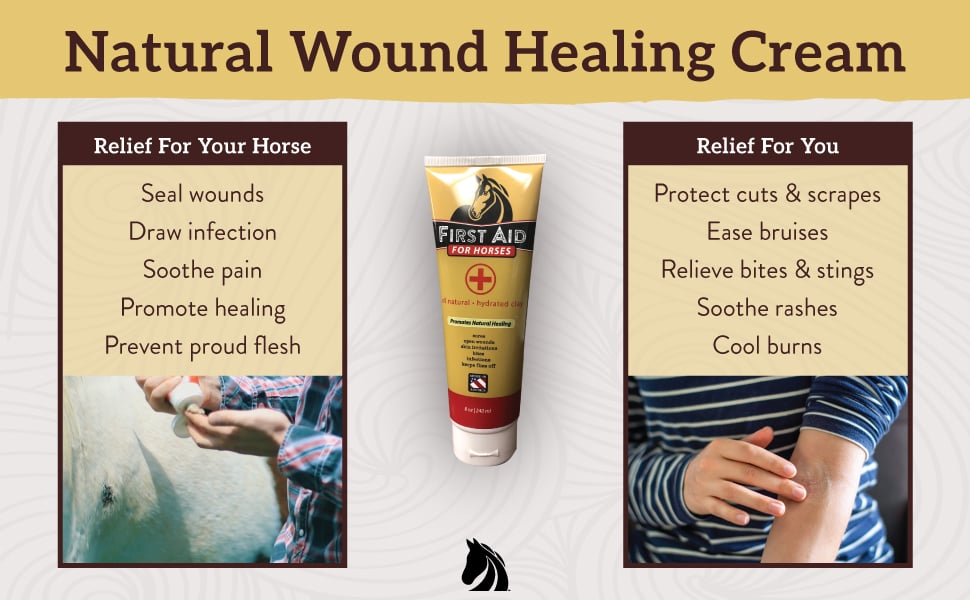 LEARN ABOUT WHY REDMOND BENTONITE CLAY HEALS
Bentonite, also known as montmorillonite, is an age-old healing clay with incredibly diverse curative properties. Some call it Mother Nature's pharmacy. We call it the "clay of a thousand uses." Redmond bentonite in particular excels at healing sores, rope burns, cuts, and bites on horses.
Is bentonite clay safe and beneficial for my horse?
KEY INGREDIENTS:
Hydrated Sodium Calcium Aluminosilicate
CRAFTED BY FARMERS . NATURE HAS IT RIGHT
FIRST AID FOR HORSES FREQUENTLY ASKED QUESTIONS
first aid for horses
Works good. I wish you sold Redmond salt blocks with garlic locally here in Mesa Az.
first aid for horses
Works good. I wish you sold Redmond salt blocks with garlic locally here in Mesa Az.