Did you know poor digestion is linked to equine behavior? Digestive pain increases stress and anxiety and decreases your horse's ability to focus. Support your horse's gut and provide stability and all-natural stress relief with Daily Gold! Our healing bentonite clay improves gut microbiome, alleviates ulcer symptoms, diarrhea and other common digestive issues, helping your horse get the most nutritional value from everything in their diet. It's a gentle and smart addition to any feed program!
DIGESTIVE SUPPORT
Daily Gold keeps your horse's gut steady through every season! It buffers acid, alleviates diarrhea, and promotes healthier microbiome and nutrient absorption.
NATURAL STRESS RELIEF
Help your horse feel calmer and focus better by resolving digestive issues that create discomfort and anxiety.
HORSE ULCER SUPPLEMENT
Naturally buffer stomach acid and relieve painful symptoms caused by equine ulcers.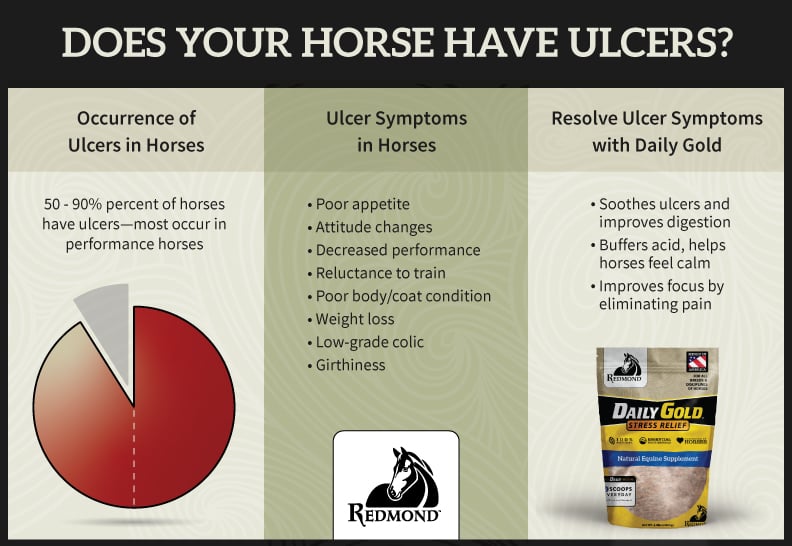 ESSENTIAL TRACE MINERALS
Nourish with 60+ loose minerals that improve performance, appearance, and health.
TOXIN BINDER
Daily Gold is 95% efficient at binding aflatoxins and T-2 toxins in feed and carrying them out of your horse's system.
MADE BY NATURE
100% natural Redmond bentonite sourced in Utah, USA, so you can feel good about giving it to your horse.
Step 1
Redmond Daily Gold Powder fits into step 1 of our Foundational Horse Care Program. Complete your program with other Redmond favorites for best results.
Step 1 - Scoop Daily Gold
Step 2 - Scoop Crushed Rock
Step 3 - Free-Choice Rock
Learn More About Our Foundational Horse Care Program: Click Here

Feeding instructions
Add the recommended dose to your horse's daily feed. We recommend mixing all feed and supplements together and adding a cup of water to increase palatability.

MAINTENANCE - 2 Scoops
HEAVY WORK - 3 Scoops
GUT STRUGGLES - 3 Scoops
LARGE HORSE > 1200LBS - 3 Scoops
Why Redmond Clay is Different
Redmond Clay is sodium montmorillonite—also known as bentonite. It's mined from an ancient seabed located in Redmond, Utah. This rich deposit remained untouched for thousands of years and created a proprietary blend of highly effective clay. It's known for its detoxifying properties, broad spectrum of trace minerals, and natural ability to improve horse health and digestion.
Learn More Here: Is Bentonite Clay Safe and Beneficial for My Horse?
Bentonite Clay
GUARANATEED ANALYSIS
| Mineral | Max | Min |
| --- | --- | --- |
| Calcium | 3.50% | 4.50% |
| Phosphorous | | 0.80% |
| Salt | 3.50% | 2.50% |
| Magnesium | | .80% |
| Potassium | | .70% |
| Sulphur | | .16% |
| Carbon | | 21900ppm |
| Iron | | 400ppm |
| Manganese | | 3900ppm |
CRAFTED BY FARMERS . NATURE HAS IT RIGHT