FOUNDATIONAL MINERAL SALT
10 Fine provides a full spectrum of sea minerals that improves animal nutrient intake. If your cattle have access to good forage and feed year round, this supplement is the perfect place to begin.
10 Fine is for all classes of livestock.
TRACE MINERALS MATTER
Natural forces created our ancient sea mineral deposit in Redmond, UT. Seawater is Earth's most ancient, natural, an physiologically ideal solution. All atomic table elements are in a solution of consistent balance and proportion available to all sea life. Dr. Maynard Murray noticed elements and their quantities in seawater are essentially the same as they are in blood. Thus, he did not find the degenerative diseases in sea creatures that he saw occurring in land mammals.
Not All Salt is Created Equal
"Redmond products have really been a blessing. I use Redmond #10 Fine Salt because we used to have lots of trouble with the toxicity and fevers that come during fescue season. When we add 10 Fine into our ration, these problems never come. My animals' body condition scores are the best he has ever had." -Kelly
HEALTH AND PRODUCTION
We often hear from customers "Our animals just do better on Redmond."
PREFERRED BY LIVESTOCK
Animals instinctively crave salt that has naturally occurring trace minerals. Try it in your herd: put any salt or mineral next to Redmond 10 Fine and see which one your animals choose.
REDUCE YOUR COSTS ON CUSTOM MINERAL MIXES
10 Fine has many trace minerals that livestock need. However, because of mineral deficiencies in some soils and feed, you may need to add additional minerals beyond what Redmond 10 Fine provides. If you contact us, we can help you with that too.
NO CHEMICAL PROCESSING
Redmond 10 Fine is unrefined and OMRI Listed. Our ratio is 93% sodium chloride and 0% synthetic chemicals. Whether your approach is organic or conventional, 10 Fine can help you get back to what you love about raising animals.
MORE RESULTS
Ready for even greater results from your mineral program? Offer your cattle one bag of Redmond Conditioner for every 2-3 bags of mineral salts. This Conditioner comes from the volcanic clay found on top of our mineral deposit.
Redmond Conditioner:
Buffers rumen pH just as efficiently as sodium bicarbonate

Binds to toxins

Aids digestion

Improves complete rumen health

Is more cost effective than sodium bicarbonate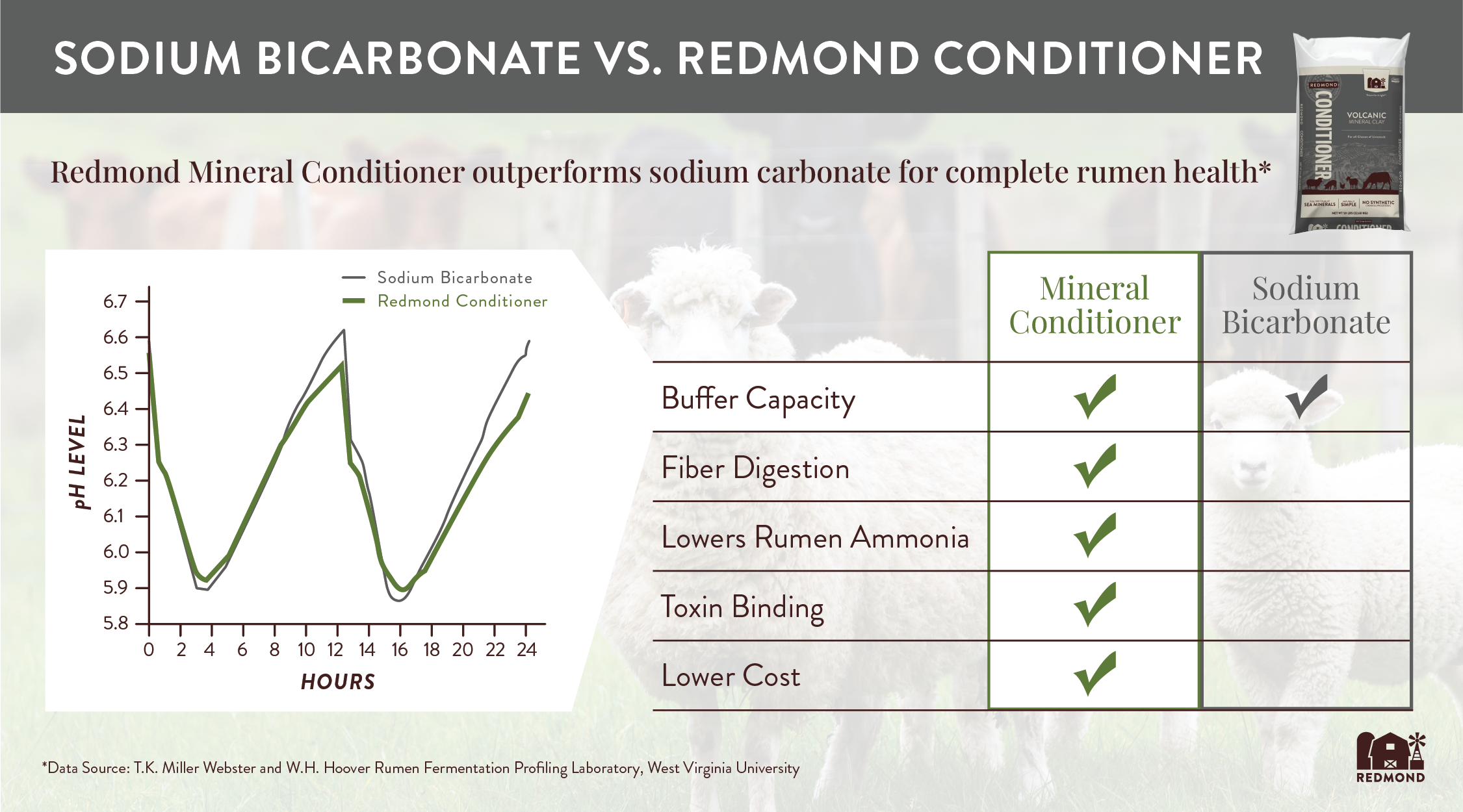 Call to purchase Redmond Conditioner. (Not available online.) 866-451-3418
HOW TO USE 10 FINE
Livestock: Offer free choice year round in loose minerals or in block form. You can also mix with feed rations.
Soil: Apply dry (25-150 lbs per acre each year) or as a foliar spray (3.5 lbs per acre 3-4 times a year) to your land.

Why is it called 10 Fine?
10 Fine is sifted through a #10 sieve to separate finer granules from courser granules.
Why did my animals eat it so fast?
After switching to Redmond, some animals temporarily increase their mineral salt intake. Other mineral mixes contain byproducts and fillers that force them to slow their consumption; resulting in some mineral deficiencies. After Redmond helps normalize their blood mineral levels, their intake should taper off.
They may also be craving extra electrolytes due to weather or life stage stresses.
Isn't salt bad for soil?
Many decades ago, Dr. Maynard Murray discovered that measured amounts of sea minerals are extremely beneficial to soil health and plant growth.
When applied in the proper amount, sea minerals invigorate microbial life and improve the electrical conductivity of your soil.
Is 10 Fine safe for pregnant animals?
Yes! In fact 10 Fine can help pregnant livestock get the minerals they need for a healthy birthing season.
How much iron does my herd need?
Iron is categorized as an essential trace or micro-element, meaning only a small amount is needed...but that small amount is absolutely critical for your herd's health. Learn more about iron requirements for cattle.
DO I NEED TO FEED ANY OTHER MINERALS?
When given a choice, animals choose Redmond over any other salt or mineral program. Normally intake on any other mineral product is reduced significantly, especially if Redmond Conditioner is fed with Redmond Salt. Depending on the soils and feed quality in the area, they may need a little extra of certain minerals. Leaving access to some kind of heavier mineral mix will show whether they need it or not. You can also use our products with added minerals like Selenium 90.
INTERESTED IN A CUSTOM MIX? GIVE US A CALL: 866-735-7258
CRAFTED BY FARMERS . NATURE HAS IT RIGHT
10 FINE FREQUENTLY ASKED QUESTIONS
Our cows love Redmond!
This is a MUST for livestock. Our cows love it and we love giving it to them!
10 Fine - Premium Mineral Salt - 5lb
It was my error
I assumed I was buying 50 pound bags. Never zoomed in on the picture. Got 2 overpriced 5 pound bags. Error was on me.
Hi Evan,
Thank you for choosing Redmond Ag and sharing your feedback. We are committed to natural, premium products for your animals and a world-class experience for you. We appreciate your comments ; they help us do better. I am sorry that your order was very different than you expected, and I have passed that along to our marketing team to make sure that the size differentiation is more easily identified. Watch your mail for a little 'Redmond Love' and thank you for your feedback.
Kindest Regards.
Becky
Not quite as fine
It is a little more course than I thought fine would be, but same great salt, happy with my purchase
Looks good so far
So far it's working like what I was using but at a better price
Our cows love Redmond!
This is a MUST for livestock. Our cows love it and we love giving it to them!
10 Fine - Premium Mineral Salt - 5lb
It was my error
I assumed I was buying 50 pound bags. Never zoomed in on the picture. Got 2 overpriced 5 pound bags. Error was on me.
Hi Evan,
Thank you for choosing Redmond Ag and sharing your feedback. We are committed to natural, premium products for your animals and a world-class experience for you. We appreciate your comments ; they help us do better. I am sorry that your order was very different than you expected, and I have passed that along to our marketing team to make sure that the size differentiation is more easily identified. Watch your mail for a little 'Redmond Love' and thank you for your feedback.
Kindest Regards.
Becky
Not quite as fine
It is a little more course than I thought fine would be, but same great salt, happy with my purchase
Looks good so far
So far it's working like what I was using but at a better price